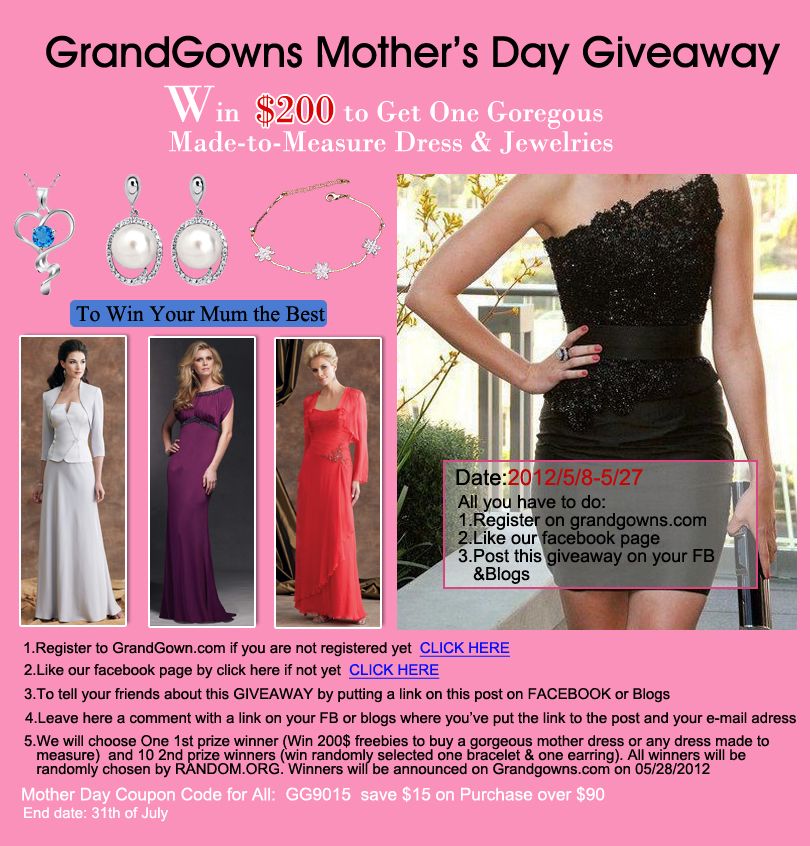 Join the first ever GrandGowns  Mother's Day Giveaway for a chance to win $200 worth of items ( that will credit on your account) and some cool accessories.
How to Join?
1) Register to GrandGown.com if you are not registered yet (CLICK HERE) (http://www.grandgowns.com/customer/account/login/)
2) Like our facebook page by click here if not yet.(CLICK HERE) (https://www.facebook.com/GoodGoodsChina)
3) Tell your friends about this GIVEAWAY by putting a link on this post on FACEBOOK or Blogs. ( Make sure to tag our fb page on your post)
4) Leave here a comment ( or to our FB PAGE) with a link on your FB or blogs where you've put the link to the post and your e-mail address (THE SAME E-MAIL THAT YOU'VE PUT DURING THE REGISTRATION ON GrandGowns.com).
5) We will choose One 1st prize winner and 10 2nd prize winners by RANDOM.ORG. The winners will be announced on Grandgowns.com on 05/28/2012
* And also, try to join our ANOTHER Facebook Fan Page contest over here: http://goo.gl/gjTma
Prizes:
First Prize:  200$ worth of gorgeous mother dress(es) or any other dress made to measure.
Second Prize: 10 winners of one bracelet & one earring, randomly chosen via ramdom.org
P.S.: I have also one public coupon that you may use to have discounts
Coupon code:  GG9015  save $15 on Purchase over $90
End date of coupon: 31th of July
Good Luck To Everyone..:)