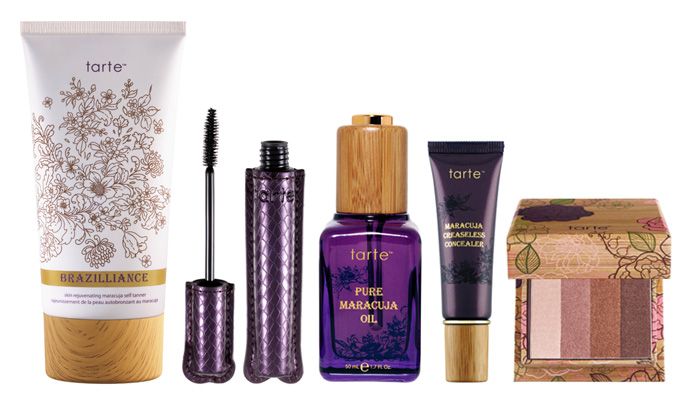 I am the type of woman who likes dressing up and putting on makeup. I have spent quite a fortune already buying so many different brands of makeup because the more popular brands are usually costly. So I have started browsing the internet for alternative brands that are of high quality but won't break the bank. I am also more aware of the stuff that I put on my face. The chemicals found in cosmetics in the long run can be harmful to your skin. Furthermore, more women are realizing that lesser known brands are sometimes better than the leading brands.
Tarte is one brand that's worth checking out. Their cosmetics are always formulated without parabens, mineral oil, phthalates, triclosan, sodium lauryl sulfate, and gluten which can be harmful to our skin. Made from natural ingredients like superfruit and plant extracts, vitamins, minerals, essential oils and many more, Tarte cosmetics only manufacture healthy and environment friendly products. Another feature that sets them apart is the 12-hour power formula which makes their cosmetics waterproof, sweatproof, and SPF-induced. Get to choose from their wide selection of skin and body care products, makeup, and brushes and tools.
I have come across several products that I would very much want to have, like for instance the Airblush Maracuja Blush. This creamy, long-wearing blush infuses skinvigorating Maracuja oil into your skin that results in a feather-light and subtle dewy finish look. This makeup gives off that natural and fresh vibe. The Maracuja oil in this blush is rich in essential fatty acids that gives the appearance of luminous skin, has anti-aging properties, and helps skin rejuvenation.
Another product that I will definitely use is the Lights, Camera, Splashes 4-in-1 Waterproof Mascara. This has lengthening, curling, volumizing, and conditioning properties that will give you sexy lashes in no time. It's clinically proven to increase the appearance of lash volume and since it's waterproof, you don't have to worry about rain getting on your face. I have always been particular with the cosmetics I put on my lips. I think the LipSurgence Lip Luster will be a nice addition to my makeup collection. This sparkling lip luster adds color and shine to your lips and merges sheer luminous color with natural moisturizers that makes lips softer. Furthermore, it has a blend of plant bio-nutrients, vitamins, and essential oils rich in emollients that brings out naturally fuller lips and prevents premature aging.