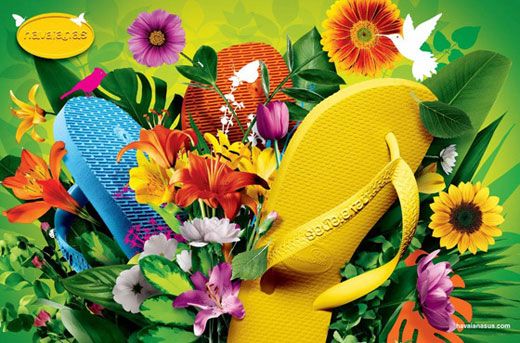 I love shoes as well as slippers. I have quite a number of slippers in my closet with different styles and brands. But my favorite has and will always be Havaianas. I can't remember exactly when I bought my first pair but since then it has been a staple in my shopping list. I love a lot of things about my Havaianas slippers. For one, it's very light and comfortable to wear. It's as if I'm not wearing any footwear at all. I also love their different styles. You can choose which ever style suits your personality and rest assured that all styles are beautiful. Havaianas may be pricier than other brands but people
still buy it because they know that they're getting their money's worth. The brand has always been known for being durable. I actually have a pair that's more than two years old.
The name Havaianas was actually inspired by Hawaii. The place is surrounded by beaches and is a favorite summer destination by many people. The fun, relaxing, happy feeling that being in Hawaii exudes is what Havaianas wants reflected in every pair of slippers they manufacture. The first Havaianas design was inspired by the Japanese sandals known as Zori and was created in 1962. It is a Brazilian brand that has grown throughout the years and is worn all over the world by people from all walks of life.
To date, there's probably a Havaianas store in every country in the world. Their collections or styles are changed annually. Pairs are sold for women, men, children, and babies. They also have a unisex line. If you want to see more of the styles they're selling, just check out their online store at http://us.havaianas.com/. You can also see their limited edition flip flops as well as create or make your own design. The Havaianas online store only ships within the US though. But who knows, they may soon ship worldwide.
For more details of their latest collection just click here to learn more…