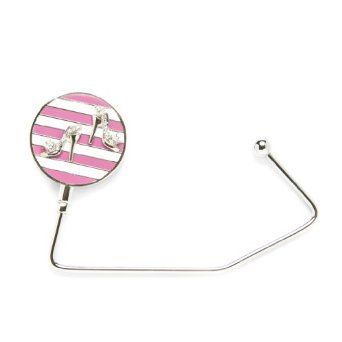 No matter where you are going, a bag is something that you will bring with you. Whether it is a tiny purse that can hold only a few essentials or a bigger sized bag that can accommodate a few change of clothing, a good quality bag is important. Aside from this, your bag will benefit from some essential items that will help keep your bag organized and protected.
SilverHooks.com provides you with a way to protect your bag whenever you are on the go. Instead of putting down your bag just about anywhere, you can hang it and keep it off the floor with the use of a purse hanger which is one of SilverHooks.com's major products. You can also find purse organizers, wallets, bags, travel accessories, apparel accessories, and other bag essentials.  Below are some of the products that you will find at SilverHooks.com.
Purse Hangers. SilverHooks.com has over 100 styles of purse hangers for sale. A purse hook will come in handy whenever you are in a restaurant or you need to go to the bathroom. It will keep your bag from getting dirty and soiled. The purse hangers from SilverHooks.com are available in various designs, shapes, and colors. You can choose from the regular purse hangers or you may prefer any of the crystal purse hangers, bracelet purse hangers, or folding purse hangers.
Purse Organizers. If you are the type who has numerous small items that clutter your purse, then a purse organizer will help you put your things in order. With a purse organizer, you will not have to spend several minutes just looking for something that you know is inside your purse. It will also make it easier for you to clean and change your purse once in a while because you only need to remove a few things to empty your purse. SilverHooks.com offers a large selection of purse organizers. They are available in different designs, colors, and sizes.
Business Card Holder. Another essential item you should have in your purse, the business card holders from SilverHooks.com are not only functional but beautiful as well. You can easily fit several business cards, identification cards, and credit cards in a single card holder. Some card holders also have a zippered compartment where you can put a few coins. Just like most of the products from SilverHooks.com, you can choose from various business card holder designs.
Passport Covers. For those who regularly travel out of the country, any of SilverHooks.com's passport covers is a must. These passport holders will conveniently hold your passport along with a few bills, credit cards, and other additional forms and travel necessities. You can now carry your passport in style with any of the stylish passport covers from SilverHooks.com.