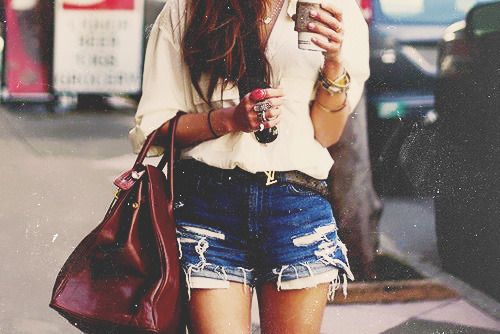 If you want to stand out in the crowd, your personal style should match your personality rather than mimic current trends. This does not mean you cannot incorporate trendy items in your wardrobe; rather, it means you should avoid looking like a department store manikin. Dare to be different and express yourself through your clothing. Unusual fashion choices can make a big impact.
Choose Unusual Accessories
Hats add a unique touch, depending on the type of hat. Standard fashion, for example, dictates that a fedora is worn with a suit. Instead, pair it with jeans and a t-shirt for an interesting look, or choose a fedora in a non-standard color, such as cobalt blue.
Wearing suspenders is a nice change from wearing a belt. Celebrate your heritage, beliefs or the season by wearing flag suspenders, Irish shamrock suspenders, rainbow suspenders, peace sign suspenders or any other uniquely designed suspenders.
Eyeglasses draw attention to the face and, therefore, can make a big statement. Wear them with interesting shapes or frames, rather than trendy glasses.
Let Your Body be Your Guide
You can get away with wearing nearly anything as long as it flatters your body type. Rather than wearing trendy outfits that look good on a model but look horrid on you, choose your outfits.
Sweat pants, for example, have been relegated to a bottom rung in the fashion hierarchy. However, if you are lean and toned, you can pair black sweat pants or yoga pants with a funky denim or leather jacket for a rebel look. Choose monochromatic colors for a leaner look. Add a colorful scarf for a dash of fun.
Pair Patterns in Interesting Ways
You may have been told never to combine different patterns. For example, it is considered a fashion faux pas to wear polka dots next to paisley. It is true that if the colors or fabrics are widely different you can end up looking clownish. If you match color and fabric, however, you can easily pair mismatched patterns. A grey pinstriped suit coat over a grey silk shirt, with subtle paisley or polka dots, can look nice and anything but clownish. An argyle sweater worn with pinstriped pants is another good example of this look.
Do not be afraid to experiment with your wardrobe. Fear of sticking out in the wrong ways makes too many people stick with basic, boring outfits that do not capture their personality. Dare to let your own good looks shine in the way most appealing to you.